3 Best Career Options in Oracle
|
Are you interested in handling databases? Make your career in Oracle as a DBA and experience high growth and career prospect. If you are Oracle certified, there are some great career options to consider. Those who have successfully completed Oracle certification courses, may work in different positions, be it financial consultant, application developer or database administrator. Becoming a DBA  embarks you on a journey of opportunities and tremendous career growth.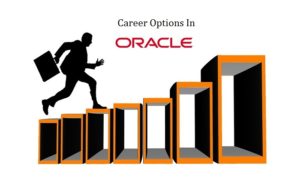 Here are 3 best Oracle certification career options to take your pick:
Database Administrator (DBA)
Specialized certification courses are available from Oracle to let you acquire a career in database administration. As an Oracle certified database administrator, your primary responsibility is to oversee every single aspect of database association with some specific job functions. Some of the tasks include the development of database software tools along with testing and quality analysis, implementing effective backup strategies and providing the best recovery procedures while offering technical support to the users. An Oracle Remote DBA may get certified in different Oracle products. Say, for example, administrators may get certification for professional, master, associate or expert levels in Oracle 11G database version.
Application Developer
You can also opt for the career of an application developer. There are specific certification courses in Oracle version 9i, 10g and 11g that make you certified at the professional as well as the associate level. You may work in Oracle Forms and Oracle PL/SQL at an associate or professional level, if you undergo Oracle Application Development Certification Course and successfully accomplish it. An application developer's primary job responsibility is to develop database related software tools that suit the needs and requirements of some specific organization. These professionals are assigned the responsibility to develop computer programs that execute a certain range of programs and tasks. Application Development certification courses are part of the Middle ware Category in Oracle.
Financial Consultant
Financial Consultant certification courses fall under the Expert level in Oracle certification category. It is a part of Oracle's R12 version of E-Business Suite. These consultants receive training in accounts receivables and payables and become specialists in handling different Oracle-based financial solutions for big organizations. They are primarily responsible for implementing the financial software solution. However, the advanced level financial consultants may also get involved in the designing process followed by quality analysis and software assessment. Some of the other job responsibilities may include treasury, asset management and cash handling process.
The Oracle certification courses are widely accepted and acknowledged due to the sheer depth of knowledge exposure and justifiable logic to handle different software solutions. Becoming an Oracle certified DBA is regarded as one of the best career options available. There are also other certification options available from Oracle. You may even consider getting double or triple certification from Oracle to enhance your career options. It is all about the initiatives you take that matters.
In order to take up a career in Oracle, you need to polish your skills in relational database management. Unless you have adequate knowledge in RDBMS, there may well be difficulty in establishing a career in Oracle. No matter which stream you plan to work on, undergoing proper certification courses in Oracle is always a necessity. This lets you get exposed to every minute detail required to work as an Oracle DBA. You may work in finance, software development or database management, but having a sound knowledge in database administration and handling is essentially required to make things work on a positive note.